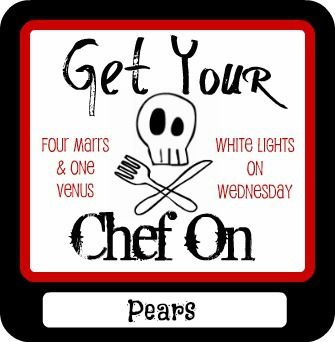 It's Round 5 of Get Your Chef On and the secret ingredient is pears.
Pears? Yep. Pears!
Honestly, when I think of pears I think of this:
My kids love pears and I always have them in my cabinet.
Occasionally I buy them fresh and enjoy some juicy, crisp pear slices.
But, I don't think I've ever cooked or baked with pears.
I thought and thought about what to make for this month's Get Your Chef On.
I was stumped.
Then, I remembered a pear and celery salad recipe from Weight Watchers.
Bam! Pear deliciousness at its best!
You can also find this great recipe shared by Darla L.at
Key Ingredient
.
Thank you Darla!
Crunchy Pear and Celery Salad
Ingredients:
-4 stalks of celery
-2 green bartlett pears
-2 gala apples
-romaine lettuce
-2 T. maple syrup
-2 T. apple cider vinegar
-1/2 c. chopped pecans
-1 c. diced white cheddar
-1/4 t. salt
-fresh ground pepper, to taste
Directions:
1. Wash all fruits and vegetables. Cut and dice celery, pears and apples.
2. Combine maple syrup, vinegar and salt together in a large bowl.
3. Toast chopped pecans in a 350 degree oven for 5 minutes. Let cool.
4. Cut up 1 cup of white cheddar cheese.
5. Add the pears, apples, celery, pecans and white cheddar cheese to the maple syrup and vinegar mixture in the large bowl. Stir gently to coat. Season with ground pepper to taste.
6. Serve salad on top of a romaine lettuce leaf.
Servings: 6
Weight Watcher Points: 5
Enjoy!
If you're looking for a light and refreshing salad, this is it!
This salad kind of reminds me of the Apple Pecan Chicken Salad from Wendy's.
In fact, next time I just might have to add some grilled chicken to it.
Hope you like it as much as I do and make sure to check out
The Get Your Chef On Recipe Hop to see all the other yummy pear recipes!
;